It was a fantastic day for the Niagara Veg Fest. Thankfully, the weather held off and it wasn't rained out. Hats off to the organizers, the volunteers, the vendors, the speakers, all the effort that goes into this kind of event deserves to be congratulated and acknowledged. If you didn't get a chance to attend, I hope you're able to able to stop by the Niagara Veg Fest General Store and purchase a few items to show your support and help them keep the event free.
We went through a few times and there were just so many wonderful vendors to see and talk to. I tried to take as many pictures as I could remember to take!
We were lucky enough to be part of the first 100 who received a Niagara Veg Fest grab bag. Some of the vendors were super kind to donate $10 gift certificates and or free products coupons. I can understand how hard it is for a small business to put up that kind of money, but I hope it works out for them. As soon as we walked in it was crowded!
The very kind and lovely Ella of Ella's Botanicals was there from Toronto and her new packaging is very eye catching.
We didn't even have a chance to see what the Naked Sprout had they were so busy. I noticed people had tortila wraps, I assume it came from them.
Bamboo Natural Food Market was there in full effect – great people with a good selection of natural products.
Cedar Row Farm Sanctuary, located just outside Stratford, Ontario, is a place of hope for animals rescued from the abuse, neglect, and slaughter found on meat, milk, and egg farms. Hundreds of farm animals, including goats, pigs, sheep, donkeys, chickens, cows and ducks have been rescued since the sanctuary began in 1999.
They're having an awesome event June 22!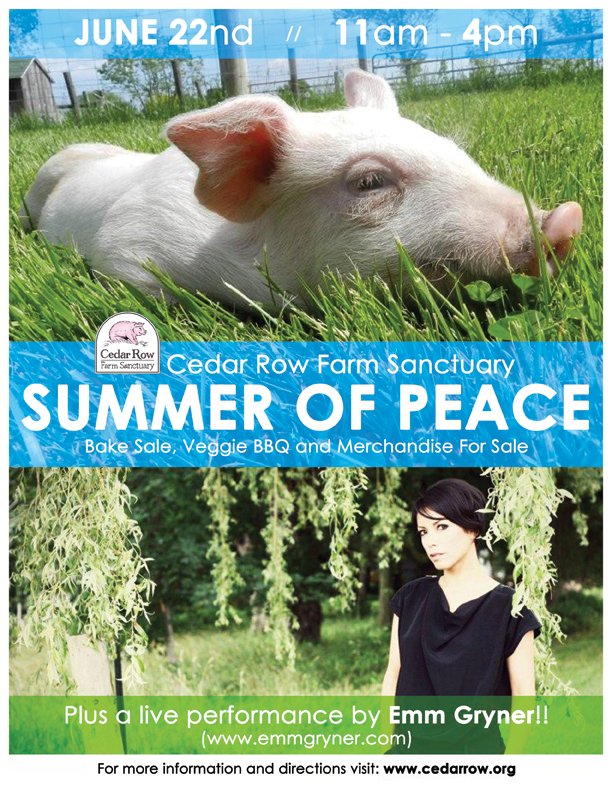 CLICK HERE to donate.
We met the lovely people behind Bare English & Co. Lip Balm. All of their products are vegan and gluten free. They offer a variety of different scents/flavours:
Vanilla Coconut – a sweet and tropical creation infused the goodness of green tea.
Mint Chocolate – a chocolaty peppermint delight infused with refreshing peppermint tea.
Pomegranate Berry – a fresh and fruity blend infused with nutrition packed white tea.
I will be writing a review of their products for sure. I have been meaning to as I have been using the Pomegranate Berry for a few months now. I picked up the other two flavours and am excited to try them both. LOVE when a Canadian company steps up to the plate and really pushes a quality product. Bonus points for both owners also being vegan.
Mat bought a Mercy for Animals tshirt and I should have taken a picture of him wearing it. Such a good cause and I applaud the work they do. I don't know how hard it must be for people to infiltrate these factory farms and not crumble when they see the horrid conditions the animals are being kept in. Kudos to them and I hope more people see their work and think. CLICK HERE to donate.
Live on Chocolate uses raw cacao in their products. I've had their pudding before, it's quite good and good for you.  Their cacao is Organic and Fair Trade, supporting sustainability for the farmers and the land from where the cacao grows. CLICK HERE to find their products.
What can we say about Apiecalypse Now! Jenny is a fantastic baker, animal rights activists and honest to goodness real person. Her tiny hand make vegan products straight from her big heart. I've written before about her mint marshmallows – to die for. SO good with gluten free rice cereal. Oh yeah.
I urge you to visit her store and show her some support: http://apiecalypsenow.storenvy.com/
Sick on Sin tshirts are just too cool and a wicked way to show your veagn support. Plant eaters unite and be fashionable while doing so! They have a variety of products:
Jen and Mike do a bang up job of making it fun to express a vegan message without saying a word.
We did go to two talks and I wish I had thought to take pictures during them. I don't know what I was thinking, but perhaps the excitement of it all was just making me silly.
We saw Susie Coston, National Shelter Director, Farm Sanctuary and she was just fantastic. I laughed and I got teared up at the pictures of the animals. I am so amazed at what people like her do and what Farm Sanctuaries mean for animals. I sense a visit to one in our future.
We stuck around to meet JL Fields, Vegan Lifestyle Coach & Educator and I am so glad we did. What a delightful person and great hugger! Her common sense approach to vegan food preparation struck a chord with me. I assume sales of pressure cookers are going up due to JL. 😉
All in all, such a good day, good food and super nice people all around. Well done Niagara Veg Fest team – I can't wait for the next one!